A transformative technology for rare mutation detection, biomarker discovery and companion diagnostics
Fast and Cost-Effective Screening of Gene Rearrangement in Cancer Patients
Detection of most gene rearrangements requires large-scale screening of patients during trials. A better alternative to Next Generation Sequencing, PanelChip® is cost-effective, customizable and simple to use. Fast turnaround time, flexible sample throughput and the capability to analyze poor quality/low concentration samples make clinical trials much more efficient.
Working with various pharmaceutical companies, Quark Biosciences has customized PanelChip® to detect all fusion transcripts to a single gene, such as ROS1 or NTRK. Among the latest examples is a MET panel capable of detecting all MET rearrangement and amplification.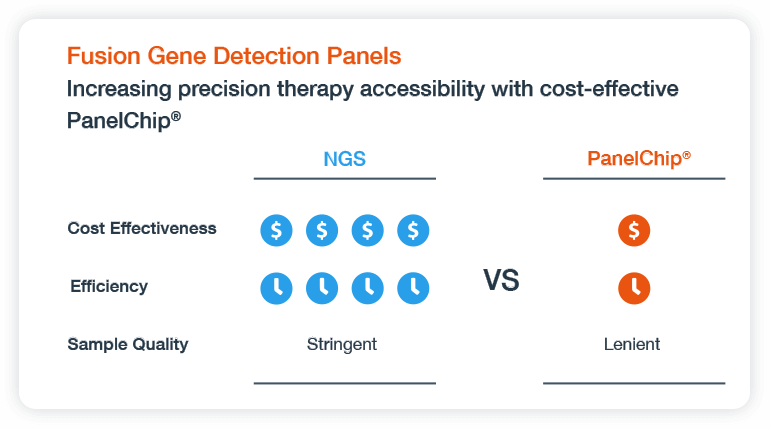 Companion and Complementary Diagnostics Development & Partnering
Quark Biosciences is dedicated to providing the highest quality and standard (ISO13485/GMP) for the development of IVD-grade assays. Our proprietary technology NextAmp™ Analysis System is an ideal platform for companion and complementary diagnostics, with the following advantages:
Simple operation – PanelChip® comes ready-to-use, providing unmatched consistency
Resolution for difficult samples – Dedicated assay design overcomes issues of low sample quality and concentration
Quick turnaround time – Two-hour reaction time and flexible sample throughput allow results to be obtained within a day
Utilizing our proprietary DigiChip™ functionality, we have developed MoDEL™, an ultra-sensitive liquid biopsy assay to detect EGFR T790M mutation, allowing clinician to provide corrective treatment in a timely fashion.
Novel Biomarker Discovery with miRNA Expression Profiling
miRNAs are potential diagnostics and prognostics cancer biomarkers. QuarkBio has built the most comprehensive miRNA-disease association database, miDatabase™, and developed the mirSCAN PanelChip® with disease-relevant miRNA biomarkers. Using mirSCAN, we have demonstrated the clinical utility of circulating miRNA biomarkers in the early detection of HNSCC cancer and the response prediction of immunotherapy. Accurate reproducibility and repeatability make PanelChip® a suitable platform for the discovery of expression biomarkers.