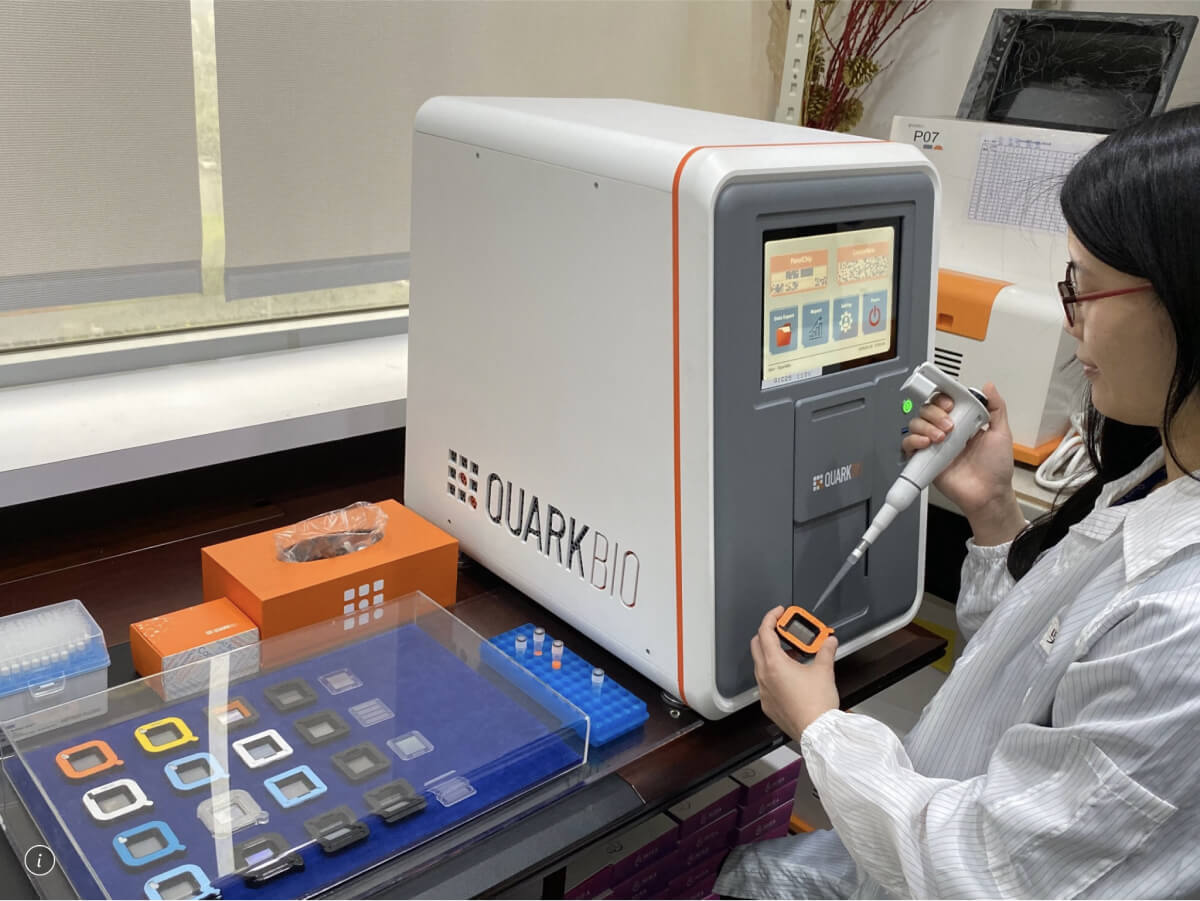 Quark Biosciences Inc. announced today the successful development of a novel digital PCR test, DigiChip SARS-CoV-2 Assay, that is 10x more sensitive than conventional diagnostic methods. The company plans to work with Shin Kong Memorial Hospital and a California-based medical group for clinical validation and to apply for regularly approval. The assay is capable of detecting minute amounts of virus presence, allowing for identification of patients at the early stages of infection and reducing false negative results, an important leverage when working to contain the spread of the virus.
The assay utilizes QuarkBio's proprietary dqPCR platform and high-density gene chip, which can simultaneously perform absolute quantification (digital PCR – dPCR) and real-time quantitative analysis in the same reaction, thus increasing both sensitivity and accuracy. The technology platform can analyze 6 samples concurrently, obtaining clinical results in less than 90 minutes.
Dr. Cheng-Wey Wei, Director of Technology Development for QuarkBio, indicated that the digital functionality of the assay can detect as low as 3 copies of virus in a sample, which is 10x more sensitive than conventional qPCR tests available on the market. Working tirelessly overnight and on weekends, his team has demonstrated the assay's high precision, specificity and impressive 8 logs of dynamic range.
Dr. Jiann-Horng Yeh, the Vice President of Shih Kong Memorial Hospital, said the absolute quantification of the assay resolves a critical unmet need, which is the capability of monitoring virus load in patients recovering from Covid-19. Tracking the amount of virus in real-time is essential for the care of the patients and the safety of medical professionals.
Another issue in the diagnosis of SAR-CoV-2 is difficulty in acquiring samples. Typically, a throat swab is performed to obtain patient samples, but the procedure is laborious and potentially causes misdiagnosis. Because of its ultra-sensitivity, DigiChip SARS-CoV-2 Assay can be employed to analyze blood samples with low amount of virus count.
Over the past year, QuarkBio has worked with multiple medical institutions in Taiwan on utilizing dqPCR liquid biopsy to monitor cancer patients' treatment efficacy. The work has led to improved patient care and collaborations with major pharmaceutical companies internationally.