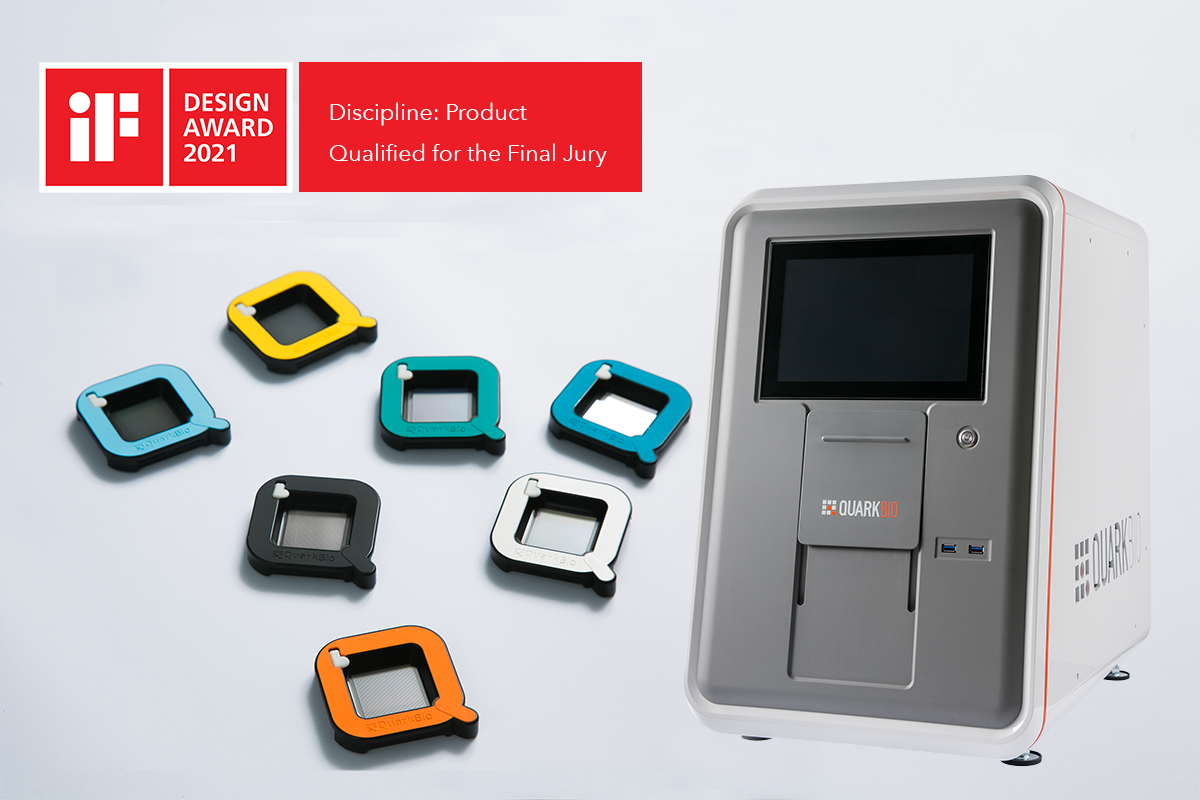 Their NextAmp™ Analysis System Makes Precision Medicine Diagnostics More Accessible with its Innovative User-Friendly Design
February 4, 2020 – Taipei, Taiwan — The international top-class panel of 91 experts has selected Quark Biosciences, Inc. to take part in the final round of the iF DESIGN AWARD 2021 for the design of the NextAmp™ Analysis System. As a result, Quark Biosciences, Inc. has successfully made the cut in one of the most important design competitions in the world.
In the final round of judging that will now follow, the design experts will decide who will receive the coveted iF DESIGN AWARD 2021. The final decisions are now eagerly awaited and all are anxious to see whether the innovative design of Quark Biosciences, Inc. will prevail in this high-profile international competition.
The iF DESIGN AWARD is presented annually by the world's oldest independent design institution, the iF International Forum Design GmbH in Hannover, Germany.
The first round brought a record number of entries; jurors had to select the top 50 percent of around 10,000 submissions from 52 countries to qualify for the iF Final Jury.
More detailed information on the NextAmp™ Analysis System can be found under "Finalists" in the iF WORLD DESIGN GUIDE
About Quark Biosciences, Inc.
Quark Biosciences, Inc was founded on the vision of using the most innovative technologies to provide rapid, affordable precision healthcare solutions to patients around the world. This has pushed the company to develop faster, more accurate diagnostic testing methods in the fields of precision oncology and reproductive genetics. Their NextAmp™ Analysis System is the high-powered result of hundreds of thousands of R&D hours, enabling decentralized testing that generates on-the-spot results.
"To use an analogy from another industry," explains Founder and CEO Johnsee Lee, "our solution is akin to capsule coffee. One machine can provide a wide variety of coffee as the coffee capsules themselves have already been pre-mixed and formulated… The fact that our chips are pre-loaded with [bio]markers gives labs convenience and allows them to operate with lower costs and higher efficiency."
About the iF DESIGN AWARD
Since 1954, the iF DESIGN AWARD has been recognized as an arbiter of quality for exceptional design. The iF label is renowned worldwide for outstanding design services, and the iF DESIGN AWARD is one of the most important design prizes in the world. Submissions are awarded in the following disciplines: Product, Packaging, Communication and Service Design, Architecture and Interior Architecture as well as UI/UX and Professional Concept. All awarded entries are featured on the iF WORLD DESIGN GUIDE and in the iF design app.
For more information and image material, please contact info@quarkbiosciences.com